Recent News
Sustaining Accessib

le Instruction

through the shift to Remote Courses
Student Life Disability Services (SLDS) and the ADA Coordinator's Office appreciate the significant effort required to quickly adapt  courses to remote instruction.  As the first week of experience in reimagined course unfolds, we continue to be available to collaborate with individual faculty and colleges to ensure that access for both faculty and students with disabilities is sustained through this transition. 
The new reality requires flexibility for all of our students who find themselves in changed environments, from time zones to technology and library access. This is particularly true for students with disabilities who rely on accommodations and compensatory strategies.  While many previously implemented accommodations will translate easily to these new formats, the shift in delivery, environment & evaluations may raise different disability-related barriers for both students who have previously requested accommodations and for those that did not anticipate needing any in on campus courses and may need to register for accommodations for the first time. There may be a need to revise or add accommodations as a result of the unexpected changes in instruction, learning environment, and assessment formats.
In addition to contributing to Keep Teaching, SLDS has developed focused FAQs for faculty and students  regarding how most commonly used class room accommodations are applicable in a virtual setting and they are available for consultation at Phone: 614-292-3307; VP: 614-500-4445; Email: slds@osu.edu.  The ADA Coordinator's Office is available to brainstorm faculty accommodations or to evaluate the appropriateness of requested student accommodations at (614) 292-7024(v); (614) 688-8605(tty)  Http://ada.osu.edu
 Talking points:
As we experience the shift to remote teaching many but not all  in-class accommodations will easily translate.

All students are experiencing unanticipated learning environments and need flexibility, this is particularly true of students with disabilities who rely on accommodations or compensatory strategies to address access barriers

Students using accommodations previously may need different ones; students who had not previously requested accommodations may be coming forward.

Examples ffrom the new environment: ExamSoft, our test proctoring software, is not fully accessible (none are), time differences interact with a number of conditions and medication cycles, controlling the home environment for distractibility, ….
By Jennifer Smola
The Columbus Dispatch, December 1, 2019
The College2Careers program, an initiative of Opportunities for Ohioans with Disabilities and the Ohio Department of Higher Education, embeds a dedicated vocational rehabilitation counselor in 15 public Ohio colleges and universities to help students with disabilities navigate job searches, career counseling, assistive technology, resume and interview preparation and job placements.
College has been a challenge for Megan Amling.
After a series of bicycle accidents five years ago, there were questions of whether college was even feasible for the Upper Arlington native, now studying world literatures at Ohio State University.
Once an avid cyclist, Amling was left with lasting problems and injuries from her accidents, including post-concussive syndrome, neck injuries and chronic migraines, making it difficult for the 22-year-old to lift objects above her head or process a lot of information at once.
She is sensitive to noise and light, and she sometimes has trouble keeping her balance.
Searching for the right career and landing a job — a topic that brings uncertainty and stress for any college student — brings even more questions for a student such as Amling. Is the job within an easy driving distance? Is the workplace bright? Is it noisy? Does it offer accessible seating positions?
A new state program aims to make it all a bit more navigable for students such as Amling. The College2Careers program, an initiative of Opportunities for Ohioans With Disabilities and the Ohio Department of Higher Education, embeds a dedicated vocational rehabilitation counselor in 15 public colleges and universities in the state. Those counselors help students with disabilities with job searches, career counseling, assistive technology, resume and interview preparation and job placements.
"It's a really big deal," Amling said of the new program. She already has talked through a number of work-related questions with Kari Grafton, the counselor embedded at Ohio State Disability Services through the College2Careers program.
"Just having someone to go to just makes a really big difference," Amling said.
Counselors such as Grafton help students identify what kind of job opportunities fit with their interests and studies.
"I am the boots on the ground, working directly with the students," Grafton said. "Discovering what their job goal is, how that relates to their major, what their barriers could be, and figuring out how to get through those barriers to get them a competitive, integrated career."
Counselors also work with students to navigate questions such as when or how to disclose their disability to a potential employer and how to ask about accommodations that could be made for it. They also help students take into account factors such as employers' insurance benefits and flexibility.
"So we're looking for those kinds of positions, (a job) that's going to have good insurance and is going to be personally fulfilling, but also practical and meet your everyday needs," Grafton said.
Gov. Mike DeWine and the state legislature approved funds for the College2Careers program in the most recent two-year budget, spending approximately $11.3 million on the program over the biennium.
"Individuals with a disability – it's not about their intelligence. It's not about whether they're capable," said Kevin Miller, director of Opportunities for Ohioans With Disabilities. "It's about: How do you make sure you're connecting the right skill set with the right fit and finding employers who are willing to understand that that's what it's about?"
Students' mental health has been one area of particular interest for college administrators as the state began working on the College2Careers program, said Kapila Rodrigo, Opportunities for Ohioans With Disabilities' program administrator for College2Careers.
"We're seeing more students with disabilities that have onset mental-health issues that they never had prior to entering the collegiate environment," he said. "... And many times, these are students that may not even be aware that they have a disability that qualifies them for our services."
Most campuses have career services resources, but the specialized help of vocational counselors through College2Careers is part of what makes the program "invaluable," Amling said.
"Having someone who can understand my situation and give me advice on how to communicate that to other people and to represent myself well — it's hard to find many people that I can have that discussion with and who can give me really good advice," she said. "There's lots of people who can give me good career advice, but it's not going to be helpful if it's not applicable to my situation."
Email - jsmola@dispatch.com 
Twitter - @jennsmola
2020 President's Prize winners Jen Schlegel and Simone Bacon 
The President's Prize is Ohio State's highest recognition bestowed on exceptional students committed to social change  Each will receive a $50,000 one year living stipend, $50,000 in startup funding, access to faculty mentors, as well as opportunities to share project ideas with Ohio State's global community of alumni, friends and partners.
Jen Schlegel's project, HandiCom, is developing a finger-tap-based application that facilities the connection between ideas and written work for individuals with limited manual dexterity who can not use speech to text effectively.
Simone Bacon's project, UnCAGED (Changing the Achievement Gap in Education), a program that will increase early parent-child interaction to improve language development and remove learning barriers in disadvantaged communities.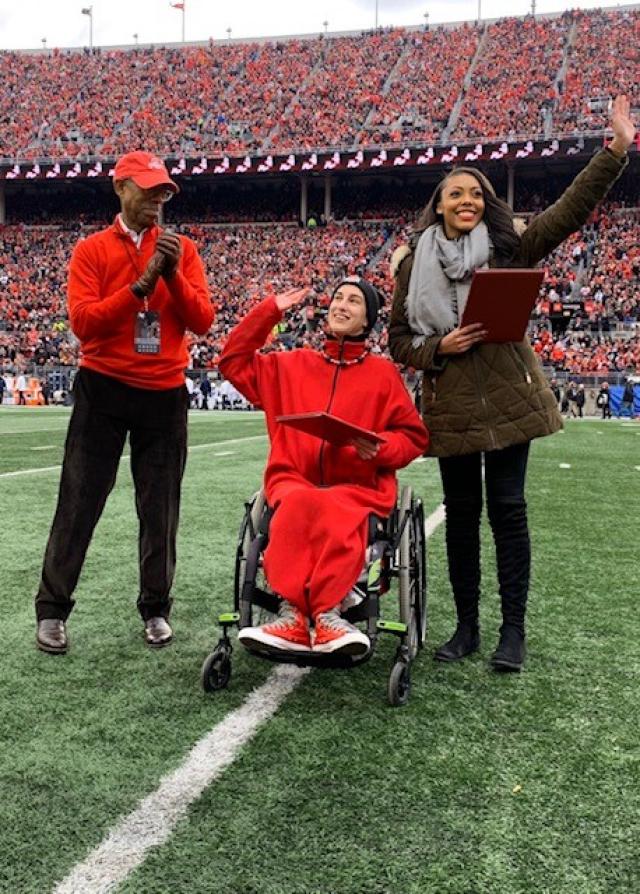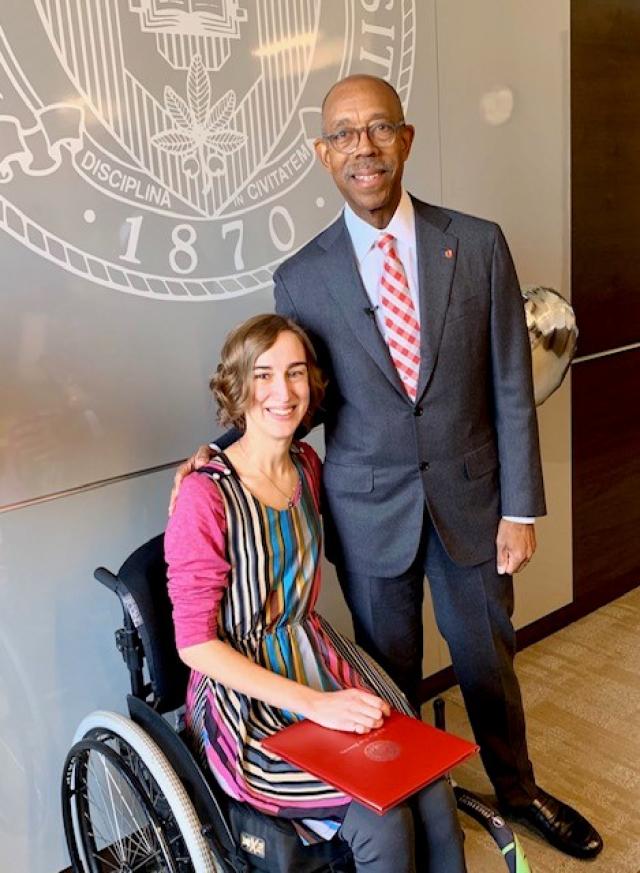 Find more information about the 2020 President's Prize winners here.
 
From COSI to NASA to the President's Prize, Anna Voelker's story is a journey that started with struggle. Learn more about Anna's custom Science Communication and Accessibility major as well as the SciAccess Conference. 
 
Jon Hackathorn, OOD Business Relations Manager, and Julie Wood, Worksite Accessibility Specialist, attended the 2019 Disability:IN National Conference & Expo in Chicago in mid-July. Disability:IN, formerly known as the United States Business Leadership Network (USBLN), is the only national business-to-business membership organization, with local affiliates, that focuses on sharing and developing proven strategies for including people with disabilities in the workplace, supply chain, and marketplace. The event included disability inclusion experts and innovative, educational sessions. This annual conference was the largest to date, hosting 2,000 attendees from Fortune 1000 companies located throughout the country.
 
The Office of Institutional Equity Opens August 1, 2019
The Office of Institutional Equity exists to help the Ohio State community prevent and respond to all forms of harassment, discrimination and sexual misconduct. This centralized office houses the university's Americans with Disabilities Act (ADA), Affirmative Action and Equal Employment Opportunity (EEO), Protection of Minors, and Title IX functions. University policies and changes to the Student Code of Conduct were updated effective Aug. 1, 2019, to reflect the Office of Institutional Equity.
The Ohio State University is committed to building and maintaining a diverse community to reflect human diversity and improve opportunities for all. The university is committed to equal opportunity, affirmative action, and eliminating harassment and discrimination. Ohio State will not tolerate retaliation in any form. The university is also committed to providing the best experience possible for minors while entrusted to our care. These commitments are both a moral imperative consistent with an intellectual community that celebrates individual differences and diversity, as well as a matter of law.
Ohio State does not discriminate on the basis of age, ancestry, color, disability, gender identity or expression, genetic information, HIV/AIDS status, military status, national origin, race, religion, sex, gender, sexual orientation, pregnancy, protected veteran status, or any other bases under the law, in its activities, academic programs, admission, and employment.
Have questions about the office or resources? Call 614-247-5838 or email equity@osu.edu.
 
5/23/19: Ohio Governor Mike DeWine today announced the appointment of James Clinkscale to serve in the newly created position of state ADA (Americans with Disabilities Act) coordinator to help establish Ohio as a disability inclusion state and model employer of individuals with disabilities.

"In order to ensure that Ohio continues to be a state leader and a disability and inclusion state, I am appointing James Clinkscale as the state's ADA coordinator," said Governor DeWine. "I believe that James has the right mix of knowledge, skills, and diverse relationships to advance our disability inclusion goals."
 
The Ohio State University has named Katherine M. Lasher as the associate vice president for the Office of Institutional Equity (OIE), a key leadership position with oversight of the university's response to reports of sexual- and gender-based harassment, violence and other forms of discrimination and harassment. The centralized office is responsible for the university's compliance with Title IX, the Americans with Disabilities Act and other federal and state laws and university policies.
 
The Executive Order, signed on January 14, 2019, calls for several measures to increase employment of people with disabilities in state government and the private sector, such as appointment of a State ADA Coordinator, a strategic plan for recruiting people with disabilities to jobs at state agencies, and a partnership between the Governor's Office of Workforce Transformation, Opportunities for Ohioans with Disabilities, and OhioMeansJobs.com.
 
In Robles v Domino's Pizza, the 9th Circuit reversed a decision by the district court in favor of Domino's Pizza due to a lack of regulatory guidance on making their website and mobile app accessible. The 9th Circuit Court ruled that in the absence of government guidelines, they still had a legal obligation to provide access not just in their physical location but also to their services provided in digital platforms so long as those platforms do sufficiently connect with services provided at a physical space, interpreting Title III as applying to a place of public accommodation not in a physical space. Domino's argued (and the district court agreed) that forcing them to be compliant would violate "due process" law since they had not received timely and clear notice of how to make their platforms accessible. With the Department of Justice has said since 1996 that Title III applies to websites of places of public accommodation, it offers no guidelines on what constitutes digital accessibility. The 9th Circuit Court ruled that due process was not at issue since the plaintiff sought compliance with private sector digital accessibility guidelines as a remedy and not monetary compensation. While the ruling does not clarify specific standards businesses must meet to make their digital platforms accessible, it joins other similar cases in which courts have ruled that businesses of public accommodation must take reasonable action to make their websites accessible.
 
"The purpose of the American Council of the Blind's Audio Description Project (ADP) is to boost levels of description activity and disseminate information on that work throughout the nation. Its major goal is to sponsor a broad range of activities designed to build awareness of audio description (AD) among the general public as well as its principal users, people who are blind or have low vision."
Some highlights of the accomplishments of the Audio Description Project (ADP) over the last decade include:
Establishing an annual conference and training institute for audio describers
Growing presence on Facebook and Twitter
Website that provides weekly updates on audio-described DVDs and Blu-ray discs (over 150 in 2018) and a Master List of over 1,500 titles now available on streaming platforms, as well as updates on TV shows including video description and a comprehensive listing of broadcast television programs with audio description
Audio-described tours of the Smithsonian, White House, Holocaust Museum, and other national landmarks
 
"The evidence suggests that individuals that decide to disclose a mental condition will likely experience negative consequences. But sometimes the costs of keeping your condition a secret are taxing on mental resources. In considering whether to disclose your condition to your employer, it's important to weigh the costs of not disclosing."
Report claims Penn, Princeton, and other Ivy League colleges discriminate against students with mental illness (Philly.com, 12/19/18)
A new report from a disability-inclusion foundation has blasted Ivy League schools, including the University of Pennsylvania and Princeton University, for discriminating against students with mental illness. It claims the colleges are forcing students to leave campus against their will and without medical justification to protect the schools from legal liability and bad press.
The report, released in December by the Ruderman Family Foundation, graded the leave of absence policies at all eight Ivy League universities. None scored higher than a D-plus.
"Leave-of-absence policies, as they are currently being implemented, are exacerbating the college mental-health crisis," concluded the report from the Boston-based philanthropy.
According to the American College Health Association, 40 percent of undergraduates have felt severely depressed in the last year and more than 10 percent have seriously considered suicide. Yet many college counseling centers are understaffed, with often less than one mental-health clinician for every 1,000 students.
House Bill 115 Signed to Improve Interactions between Law Enforcement Officers and People with Communication Disabilities
Governor John Kasich signed House Bill 115 into law on May 2, 2018 designed to make encounters between police officers and people with communication disabilities safer. The law establishes a database people can voluntarily enroll in which informs officers that during a traffic stop, the driver or a person in the car has a communication disability. For more information, visit Communication Disability Law.
 
Archived News
Access Board Celebrates 50 Years of the Architectural Barriers Act
Bowl Bound Buckeyes Support Goodwill with Service Project  
1990-2013: 23 years of the ADA (PDF)
Streaming video of the proclamation signing ceremony in Columbus, Ohio and the Ken Campbell Memorial Lecture on April 27, 2010
White House commemorating 20th Anniversary of the ADA on July 26, 2010